Keller Williams Utah Realtors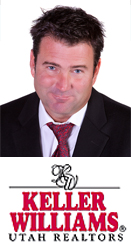 Like you, I relocated to Utah from another state, so I know what you may be thinking…what did I get myself into? Fifteen years later, I love this incredible state for all that it has to offer – the surprising diversity, mountains and endless outdoor activities.
Getting to know this place may seem tricky at first, but once acclimated I think you'll appreciate the little nooks and crannies it has to offer.
Call or email me for a tour of my city. I'll help you get an idea of the different neighborhoods that may suit your needs: from the quaint tree-lined streets of Sugarhouse and Victorian-style Avenues, to modern homes with a view along the East Bench and mouths of Little and Big Cottonwood Canyons.
While markets and technology have changed, the fundamentals of this business haven't. It's still important to answer the phone, listen and be accountable – there's no widget for that.
Take a peak at my free, online database of homes listed by every brokerage in the valley UtahJames.com and let's get started.
PIM References:
"James is a dynamo- energetic, thorough and totally professional. He was an immense help in negotiating the ups and downs of a complicated realty situation. A true miracle worker!"
Ellen Guthrie MD
"As a first time home buyer, I felt like I didn't know what exactly I was getting into. James worked with me until I found the right home for me, taking the time to understand my wants and needs. Once we found that house, James took care of all of the 'behind the scenes' stuff, with minimal effort on my end. The purchase was completed with unbelievably low stress. Up front, James gave me a 'realistic' expectation of the hiccups that come in the process of buying a home. However, the exact opposite seemed to be true, any hiccups in my experience were barely noticeable. James was able to speed up the purchase to a week earlier than expected; which from first walk through to getting the keys to my home, was less than a month. My only thoughts are, 'wow, that was fantastic!' I get excited to refer him to anyone that I hear is looking to buy or sell, because anyone that gets to work with James is truly working with the best."
B. Anderson -Nelson Labs
"James Stewart is the true article. He is a genuine and kind man who happens to be a great real estate agent. He has a mind for the market and knows how to identify the good buys. He is very well connected and can also assist in finding quality people for various jobs. We initially met when I purchased a house that James represented. I'm pretty certain that very few would have been successful in selling this house as it was in complete disarray when the family moved out. Suffice it to say that James goes above and beyond the call of duty. We become great friends since and he has truly earned my complete trust."
Nate Friedline, ER MD