Painting With a Twist!
Come have a fun time out with friends – painting and socializing. It's a little bit of paint, a little bit of wine, and a whole lot of fun! Painting With A Twist classes are NOT serious art lessons, but are intended for you to RELAX, HAVE FUN, and leave with an AWESOME piece of artwork! The art studio is fully equipped with canvas, painting supplies, aprons, and experienced instructors ready to help everyone from the aspiring artist to the beginning painter. No talent level necessary! No talent necessary!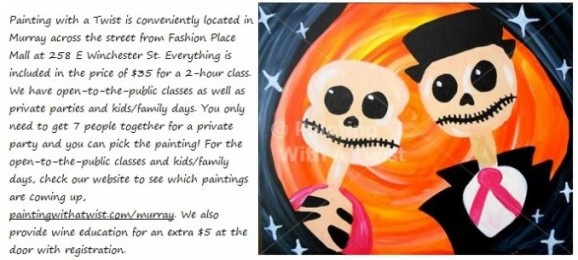 President's Message
Hello! The end of the year is quickly approaching and it is time to look toward new PIM leadership. The board has had a busy year and PIM is in a wonderful position to continue to succeed. The current board members end their term on February 1st. Each term is one calendar year running until [...]

Read more about President's Message


February 27, 2011
About PIM
Partners in Medicine (PIM) is a group dedicated to supporting University of Utah physician interns, residents, fellows, and their significant others. We provide a support group to families who are in this transitional stage in life. We are a diverse group of men, women, and children from all over the country. Although we come from various backgrounds and points of view, we share a common bond - surviving residency.
Our organization provides a tremendous network of people and activities to help you make new friends and have fun during residency. For many of our members, PIM has become their family away from home.
Find out more about us on our About page and join us on Facebook.