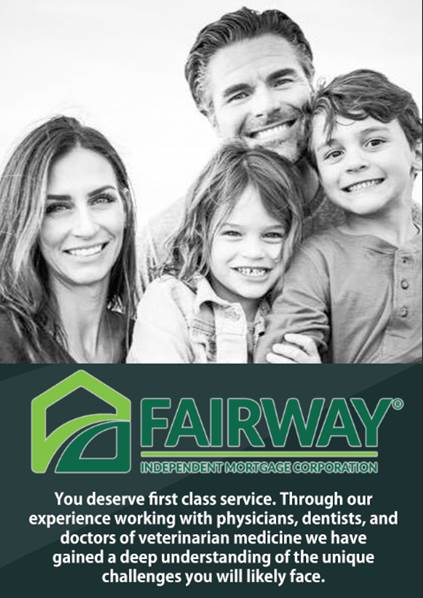 Josh Mettle, Director of Physician Lending — NMLS#219996
Phone: (385) 355-2130
Cell: (801) 699-4287
Email: josh@joshmettle.com
Web: www.utahphysicianhomeloans.com
Physician Home Loans at Fairway Independent Mortgage Corporation
Corp. NMLS #67180
Residents, Fellows, and Established Physicians
Able to close up to 90 days prior to start of employment contract
No Mortgage Insurance Programs Available
Qualify at ZERO payment for all student loans not currently in repayment
97% LTV** financing up to $650,000
95% LTV financing up to $850,000
90% up to $1.5m
We treat you the way we'd like to be treated!
Please see our many testimonials here.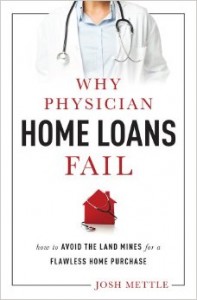 Wouldn't it be great if there was a step by step guide that would help you avoid the land mines that most commonly lead to surprising last minute declines? Josh wrote that book and he'd like to offer you a free copy. Please click here to claim yours!
Copyright©2016 Fairway Independent Mortgage Corporation. NMLS#2289. 4801 S. Biltmore Lane, Madison, WI 53718, 1-877-699-0353. All rights reserved. *IBR payments can be utilized as long as they are in repayment and the amount of the payment is verified. Forecast IBRs are not permitted. Condominiums are not permitted in Florida. **LTV/CLTV may vary based on credit score and product type. This is not an offer to enter into an agreement. Not all customers will qualify. Information, rates and programs are subject to change without notice. All products are subject to credit and property approval. Other restrictions and limitations may apply. Equal Housing Lender 
Testimonials:
"My experience working with Josh and his team was a positive one. They made it as easy and painless as possible. Even when my refinance became more difficult than originally anticipated they handled it professionally and efficiently. They are very organized and do a great job communicating during the entire process. I would highly recommend them to anyone looking to refinance their mortgage."
Dr. James M. Dahle, MD, FACEP, Editor of The White Coat Investor

"If anyone out there paid as much attention to a loan as Josh Mettle and his group, more people would be able to get the funding needed to close on a home. I appreciate the detail and time that was spent in getting us closed. Thank you so much."
Dr. Craig Taylor, DDS, and Allison Taylor

"We have been very impressed with Josh and his team. In fact, I first learned of Josh through one of my physician clients. The feedback was so outstanding that I decided to contact Josh directly and meet. Since that time, we have been extremely impressed with Josh's knowledge, customer service and strong desire to continually do what is right for his clients. As a result, we have been referring our clients to Josh and the feedback continues to be exceptional!"
Jeff Zesiger, Vice President – Utah Medical Association Financial Services

"We just wanted to send a note of THANKS for helping us prepare and secure our loan for our home. Thank you for your professionalism and service. Everything went well with closing. Thank you for having everything in order. We appreciate your efforts."
Sarah and Jeff Hirschi, M.D., Utah Emergency Physicians
PIM References:
Dr. Michael Warden, University of Utah School of Medicine, Resident Physician
Dr. Scott Parker, Resident Physician, University of Utah School of Medicine
Dr. James Ballard, Physician, Intermountain Health Care
More Physician References Available on Request