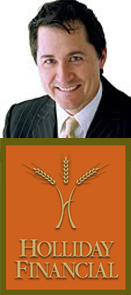 Certified Mortgage Planning Specialist, Holliday Financial
Over the past few years, Holliday Financial has successfully worked with thirty-nine of the incoming Residents and Fellows! Additionally, we have originated home loans for sixty-five local practicing physicians; some of them multiple times. That's a lot of experience helping physicians negotiate through the home loan process.
Our website, www.hollidayfinancial.com, will give you an overview of who we are and what you can expect from us.
Your financing options begin with a "Conversation Toward a Solution". We are here to talk. Call us today.
PIM References:
Dr. Grant Morshedi
Dr. Dave Wagner
Dr. Robert Smith
More Physician References Available Upon Request
"After going through two other mortgage lenders with no success, Steve helped us quickly secure a loan with ease. He understood the resident situation with student loan debt, and worked with us to navigate the ever-changing mortgage laws. He and his staff were efficient and timely with their work."
Anna Morshedi, Partners in Medicine Member
"Steve and his team were great to work with. They were responsive and on top of the process from start to finish. Steve really seemed to know the marketplace for home loans very well and helped me find a great loan for my situation at a fantastic rate."
Dr. Dave Wagner, Emergency Medicine Resident (2013-2016)
"We were very nervous that we would not be able to secure a loan and close on a home prior to arriving to Salt Lake City. Holliday Financial gave us confidence that they could not only provide us with a mortgage loan despite our student loan debt but also close on a home within a tight timeline. Steve Holliday and Amy Ostler were such a pleasure to work with and very willing to answer any & all questions we had throughout the process; they truly had our best interest in mind. With such a great experience, I would highly recommend Holliday Financial to any homebuyer."
Meg Willke & Dr. Robert Smith, Internal Medicine Resident (2013-2016)