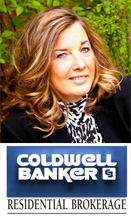 Coldwell Banker – Salt Lake
Liz offers more than a decade of experience as a realtor for Coldwell Banker Residential Brokerage and has received many awards for her sales volume and excellent customer service skills. She is nationally ranked in the top 1% of all Coldwell Banker agents, was the 2010 Salt Lake Board of Realtors' Salesperson of the Year, recipient of the 2013 Customer Service Award for Coldwell Banker and since 2005 has consistently been the top sales agent in Coldwell Banker's Salt Lake City office.
Liz has moved from coast to coast, across town and overseas so she is empathic to her client's challenges associated with a move and works diligently to make the transition as smooth and seamless as possible. Her extensive knowledge of the Salt Lake City markets surrounding the University of Utah and Downtown Salt Lake City will save you time and money searching for your new home or getting top dollar when you sell your home. Liz is here to work hand in hand with you and guide you every step of the way through a successful and happy real estate experience.
References:
John Shreck & Debbie Axelrod, MD, Anesthesiology
Linda & Nathan Dean, MD, Pulmonologist, Critical Care Medicine
Dr. Jack and Candace Taylor
Jean and Curt Hagedorn, MD, Gastroenterology, Hepatology and Nutrition
Testimonials:
"The move from a 35-year life in Texas to Utah was a major change for our family. Liz Slager made the transition smooth and easy! She exhibited a high level of professionalism and expertise by handling paperwork, contractors and repairs with confidence and ease. The home we found through Liz is simply gorgeous and we have settled into a comfortable lifestyle without having to handle any major issues or problems. Liz exudes genuine warmth and a personal touch. We will recommend her to professional colleagues and friends with no reservation at all…she is a true asset to the University and a gem for Salt Lake City."
Rena N. D'Souza, D.D.S., Ph.D.
Dean & Professor, University of Utah School of Dentistry

Liz Slager is a great ambassador for our city and community. I was fortunate to work with Liz. She is remarkably knowledgeable, completely accessible and head of the curve with insight of market opportunities. I enthusiastically recommend Liz."
Charles Saltzman, MD
Louis S Peery MD Presidential Endowed Professor and Chair
Department of Orthopaedics, University of Utah

"Liz is the best – she helped us purchase a new home and sell our old one very quickly. She really knows what she is doing and knows how to make the whole process go smoothly with very little effort on our part. We would recommend Liz to anyone looking to buy or sell a house in the Salt Lake area. She definitely goes above and beyond what you would typically expect from a realtor."
John Shreck & Debbie Axelrod, MD
Anesthesiology

"By far, Liz was the most knowledgeable and helpful real estate professional we have worked with. The best compliment.we are working with her again."
Michael Cohen, MD
Medical Director, Anatomic Pathology/Oncology Division

"Liz is an outstanding real estate agent with a thorough knowledge of the Salt Lake City and Park City real estate markets. She expertly guided us through the purchasing process and had the most complete knowledge of  closings of any agent we have ever dealt with. Honest, sincere and  hard-working — all a seller or buyer could ask for in a Realtor."
Mary Bronner, M.D. and Peter Cooley
Chief, Division of Anatomic Pathology

"We have moved very frequently. We have never worked with a more  knowledgeable, more informed, more efficient or a more kind person than Liz Slager. It made us realize how critical it is when you sell a home to have the right real estate agent, who knows her/his market thoroughly and can suggest the right selling price for the home."
Guido Tricot, MD
Clinical Professor, Internal Medicine

We have sold two homes and bought one through Liz Slager with Coldwell Banker.  She has a way of making these difficult decisions seamless and painless.  We could not be more pleased with our experiences.  To that end, we have referred a number of friends and colleagues to Liz and recommend her without reservation.

Mark and Rhonda Dodson