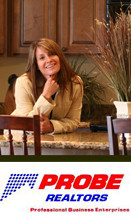 Associate Broker
Phone: (801) 942-3776
Fax: (801) 942-8922
Mobile: (801) 231-2725
Email: carolinelking@aol.com
Twitter: @CELsSLCHouses
LinkedIN: Caroline Lark King
Years actively selling Real Estate 1991 to present.
As an Associate Broker and licensed Realtor for over 20 years, customer service and satisfaction are my top priorities. Over the course of my Real Estate career, I've encountered all types of economic situations and challenges, to which I have adapted. This has culminated in a massive amount of experience in marketing (both buying and selling) all types of residential Real Estate. As a result, I am able to offer my clients insight and guidance even in the most complex of real estate transactions.
Member of the National Association of Realtors, Salt Lake Board of Realtors, & Wasatch Front Regional MLS Service (WFRMLS).
Operating under the Federal Fair Housing Guidelines and in respect of the Salt Lake Board of Realtors Code of Ethics.
Follow me on Twitter @CELsSLCHouses for Real Estate info, News, Housing info and Ideas, and general bits of trivia!
Contact me for more information:
Caroline Lark – Associate Broker (801) 231-2725, carolineLKING@aol.com
PIM References:
Dr. Andre and Heather Crouch
Dr. Przemyslaw Radwanski
Dr. William Walsh and Lisa Gabbert
Dr. Jeremy and Dr. Rachel McCandless
Dr. Nate Hall
Dr. Stacy Johnson
Dr. Steve Bennett
Dr. Erik and Rachel Severson
More references available upon request.