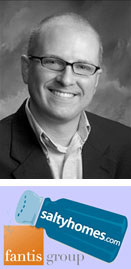 ABR, Principal Broker
Tony Fantis is the principal broker of Fantis Group Real Estate, a boutique real estate brokerage specializing in east side relocation including downtown, the Avenues, University Heights, Liberty Park, Sugar House, Millcreek, and Holladay. From Tony's website you can browse every listing with every real estate company in town, save your favorites, and even walk down the street and view neighborhoods right from your very own fancy shmancy computer! Visit www.saltyhomes.com to take the driver's seat!
Tony is a Cleveland, Ohio transplant who found the "Greatest Snow on Earth" and never turned back. A 19 year veteran of Salt Lake City, Tony has sold over 150 homes and 85% of his business is comprised of direct referrals and repeat customers. In his 'spare' time, Tony enjoys skiing, wine tasting, checking out new restaurants, golf and European travel. For more specific medical relocation information please visit our Salt Lake Medical Relocation website.
PIM References:
Dr. Kristin Dascomb
Dr. Robert Mazzola
Dr. Richard Jones
Dr. David Grenache
Dr. and Mrs. David Guidry
Dr. and Mrs. Jesse Madden
Drs. Jay and Mary-Brittain Blankenship
More references available upon request.
"Tony made our process effortless — he shows you houses you want to see, unlike other Realtors who just want to make a sale. In addition, if he sees something wrong with a house, he lets you know rather than mask problems. Tony is a perfectionist who makes you and your concerns priority one and is not satisfied unless you are, period."
Robert Mazzola (Pulmonary/CCM Fellow) & Kristin Dascomb (ID Fellow)